Home
On-line Store

Electronics


EDR-103 Glow Drivers
Single Cylinders & Twins
Multi-Cylinders
EDR-105 Battery Monitor
EDR-106 Pro Servo Reverser
EDR-107ADP Kill Switch
EDR-108 Pow'R Back'R
EDR-111 Pow'r Bus Pro
EDR-117 LiteSys
EDR-122+ Servo-Slo Plus
EDR-124 BatMon Lite
EDR-125 Gear Mg'R
EDR-126 Gear Saver
EDR-201 Current Probe
EDR-203 ServoCiser
EDR-206 Turbine Driver
EDR-207L NanoTest
EDC-4341B
&nbsp&nbsp Buffer-Amplifier Interface


EDR-102 One-Clik
Multi-Connex
EDR-103P Glowlite II
EDR-107ADP Kill Switch
SANYO eneloop Packs
EDR-207L NanoTest
A123 Tester
Ultra Switch II
Batteries
ED-Nano A123 Packs
SANYO eneloop Packs
Receiver Packs
Transmitter Packs
Connectors
Pigtails
Extensions
Y-Harnesses
Switch Harnesses
Amplifying Buffers
Charge Cords
Don't let a "little" Gear
C-R-R-U-U-N-C-H
RUIN your whole day!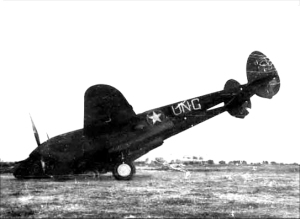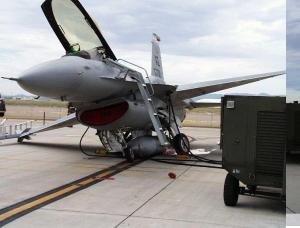 We've all done it... switch on the radio, and... C-R-U-N-C-H, the Gear collapses...
Aaargh! Forgot to make sure the Gear switch was "Down" before switching on.
An "ounce" (half-an-ounce, actually) of Prevention
is worth more than several "pounds" (or $$$) of cure!
EDR-126 Gear Saver...
Prevents accidental Gear retraction when powering up your radio.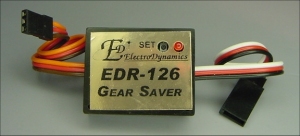 When switching on the Rx, the EDR-126 Gear Saver automatically forces the Landing Gear to the Down-and-Locked position and stays that way until the pilot has deliberately commanded "Gear-Down" — once — for at least 5 seconds, before allowing the Gear to be retracted. After that, the Gear operates normally.

Never again suffer an accidental gear retraction when powering up your radio!
"No muss- no fuss" installation

Just plug in-line with retract servo.
Installs in less than 2 minutes, even in an existing airplane!

Super E-Z one-button set-up!

No fiddly programming
No confusing menus

ROCK-STEADY, no-jitter operation
Convenient!

Arrive at the field, pull your airplane out from the car, flip the Rx switch on for a couple seconds and — sha-zamm — the gear automatically comes down, no fussing or wrestling with your Tx, no groping for the retract valve!

Comes with universal connectors.
Works with all brands and types of radios - AM / FM / PCM - even Spread Spectrum!!
EDR-125 Gear Saver
ONLY $44.95!!