EDR-107ADP Fiber Optic Kill Switch System

SKU: EDR107ADP

Price: 84.95
Price: $84.95 On Sale! 77.45
On Sale! $77.45
Throttle's STUCK!!
Can't slow the Engine to land!!!
What's going to run out first - Fuel or Batteries?
Shut Down That Gas Engine SAFELY – from your Tx!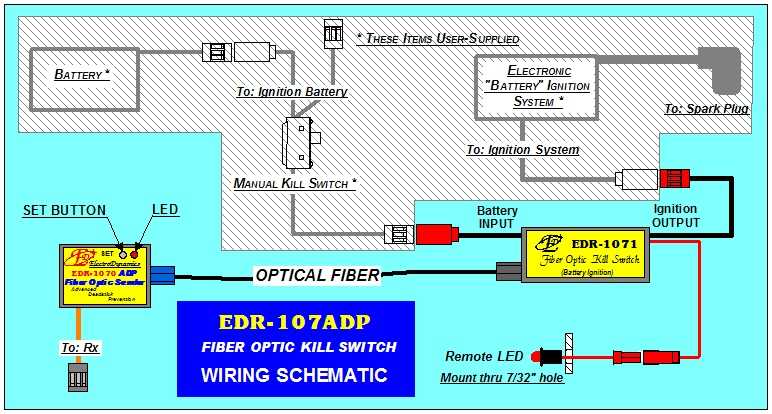 The EDR-107ADP Fiber Optic Kill Switch is THE Ultra-Reliable No-Interference Gas Ignition Kill Switch System. NOW IMPROVED with Advanced Deadstick Prevention!
No spark noise Interference!
NOTHING beats physical distance between your engine's High-Voltage Ignition and your RC System.for squashing spark noise interference.
Yes, EVEN on 2.4GHz systems!

Our EDR-107 Systems have always used a plastic Optical Fiber to maintain a safe separation between Rx and Ignition.


Super E-Z plug-and-play installation!

NOW, it's even better - ADP prevents an accidental deadstick if you should bump the Engine Kill switch on your Tx instead of the retract or dual-rate switch.

The Ignition is shut off only after a 5-second "change-your-mind" delay...
OR
For immediate Ignition Kill, "Double-click" the Tx Engine Kill switch.


Save one precious channel - 'Kill-with-Throttle-Trim'!

May also be programmed to function in the old Traditional Kill Switch mode, i.e., with ADP function disabled, for those who prefer it that way.