Home
On-line Store

Electronics


EDR-103 Glow Drivers
Single Cylinders & Twins
Multi-Cylinders
EDR-105 Battery Monitor
EDR-106 Pro Servo Reverser
EDR-107ADP Kill Switch
EDR-108 Pow'R Back'R
EDR-111 Pow'r Bus Pro
EDR-117 LiteSys
EDR-122+ Servo-Slo Plus
EDR-124 BatMon Lite
EDR-125 Gear Mg'R
EDR-126 Gear Saver
EDR-201 Current Probe
EDR-203 ServoCiser
EDR-206 Turbine Driver
EDR-207L NanoTest
EDC-4341B
&nbsp&nbsp Buffer-Amplifier Interface


EDR-102 One-Clik
Multi-Connex
EDR-103P Glowlite II
EDR-107ADP Kill Switch
SANYO eneloop Packs
EDR-207L NanoTest
A123 Tester
Ultra Switch II
Batteries
ED-Nano A123 Packs
SANYO eneloop Packs
Receiver Packs
Transmitter Packs
Connectors
Pigtails
Extensions
Y-Harnesses
Switch Harnesses
Amplifying Buffers
Charge Cords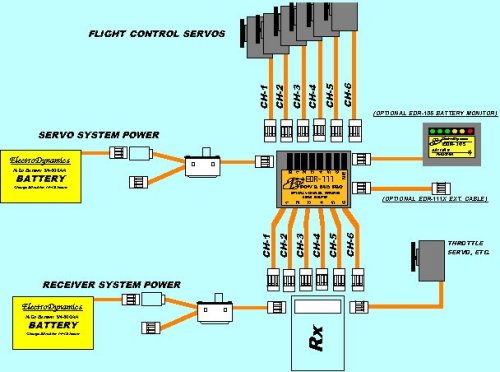 EDR-111 Pow'R Bus Pro
Glitch-proof that Radio!

Welcome to
Worry-Free Performance
of your Giant-Size aircraft, Jets and Helicopters!
Separated Power Busses isolate servo noise and loads from the Rx!
Protects the Rx from stalled servos and power line transients!
Optically-Isolated and Amplified Control Signal to servos.
Worry-Free operation with many large servos driving heavy loads!
As practiced in professional aerospace applications:

Uses separate batteries to power the Rx and the flight control servos. Batteries may be of different voltage and capacity:

Small & Light for Rx,
Big and Hefty for maximum power to servos!

Compatible with NiCd, NiMH (4 or 5-cells) and Lithium (with voltage regulator) batteries
| | |
| --- | --- |
| | Pow'r Bus Pro -- $79.95 |
Complete with all wiring and connectors, ready-to-go!
Frequently Asked Questions
What is Optical Isolation? What is the difference from an optically-isolated and non-optically isolated power bus systems?


Optical isolation is true and total electrical isolation.
There is no wiring or conductors shared between the Rx and the servos. [Non-optically-isolated systems use a common electrical ground between the servos and the Rx.]

The benefits of optical isolation are:

Superior radio interference rejection.
There is no possibility of conducted interference propagating along a common ground. This is so effective, our EDR-111 and its derivative are employed on NASA research UAV's, and several other University Aerospace department research projects.

Ability to charge both Rx and servo batteries simultaneously from one multi-output charger, or two DC field chargers using the same 12V field battery.

A common ground often confuses chargers so that one or both batteries does not get a full charge, or worse, damage to the charger or batteries can occur. With a non-optically-isolated system, you have to physically disconnect (i.e., unplug) at least one of batteries before charging, or charge them one-at-a-time. With our EDR-111 there is no such inconvenience or possibility of damage due to "senior moment" error.



Do you make a larger power backer? I'm using a 10-channel radio.


We do not at this time. However:

Each channel on the Pow'R Back'R is capable of driving up multiple servos thru Y-harnesses (several of our Aerospace flight test customers have used it this way).
So, for instance, a dual elevator or aileron setup need only use one channel. The EDR-111 is also compatible with "Matchboxes" or "Servo Synchronizers", so than one channel can drive a "Matchbox", which then matches/mixes and drives multiple servos (on a giant-size aerobatic airplane aileron, for example).


You can always add a second Pow'R Back'R in an installation that requires more than 6 channels.


What is the maximum load current the EDR-111 can carry?

The EDR-111 has a continuous current (all channels combined) capacity of 12 Amps, and a 10-second pulse load capacity of more than 30 Amps.
For comparison:

Standard (26AWG) cable commonly used in RC systems has a max. current capacity of 4 Amps
Heavy-Duty (22AWG) cable max. current capacity is 8 Amps.
Connector pins on standard servos and batteries are rated at 3 Amps max.

What size batteries can be used with the EDR-111?

You can use either 4.8V or 6V batteries on the EDR-111.
There is no limit on the capacity of the batteries.