EDR-102 One-Clik Multi-Connex

SKU: EDR-102

Price: 15.00
Price: $15.00
EDR-102 OneClik Multi-Connex
From Hair-Raising MESS to
Worry-Free SIMPLICITY!!
Tidy Up and Organize

servo leads between fuselage and wing.

No more guessing and mistakes

when connecting up multiple servos!

Super-secure positive snap-lock

housings prevent accidental disconnects in flight.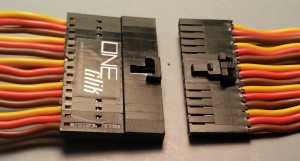 Super Heavy-Duty

20AWG

multi-strand super-flex cables increase

o-o-m-p-h

to servos and deliver

superior vibration resistance

.


HD Phosphor-Bronze pins and contacts rated up to 3 Amps continuous and more than 10,000 insertion cycles.
WORRY-FREE! These contacts will outlast most airplanes!!

Available for 2, 3, 4 or 5 Servos

.



Length (connected): 8"
Custom lengths available - CALL.