Home
On-line Store

Electronics


EDR-103 Glow Drivers
Single Cylinders & Twins
Multi-Cylinders
EDR-105 Battery Monitor
EDR-106 Pro Servo Reverser
EDR-107ADP Kill Switch
EDR-108 Pow'R Back'R
EDR-111 Pow'r Bus Pro
EDR-117 LiteSys
EDR-122+ Servo-Slo Plus
EDR-124 BatMon Lite
EDR-125 Gear Mg'R
EDR-126 Gear Saver
EDR-201 Current Probe
EDR-203 ServoCiser
EDR-206 Turbine Driver
EDR-207L NanoTest
EDC-4341B
&nbsp&nbsp Buffer-Amplifier Interface


EDR-102 One-Clik
Multi-Connex
EDR-103P Glowlite II
EDR-107ADP Kill Switch
SANYO eneloop Packs
EDR-207L NanoTest
A123 Tester
Ultra Switch II
Batteries
ED-Nano A123 Packs
SANYO eneloop Packs
Receiver Packs
Transmitter Packs
Connectors
Pigtails
Extensions
Y-Harnesses
Switch Harnesses
Amplifying Buffers
Charge Cords
"Accidental" Gear collapse on powering up?
Save your Gear Doors and Retracts!
Out of Channels... and Options?
Reclaim 2 channels and up to 4 program mixes!
EDR-125 Gear Mg'R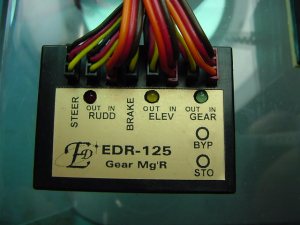 Onboard Landing Gear Manager
Plugs into Gear, Elevator and Rudder channels on your Rx, operates Rudder, Steering, Elevator, Brake, Gear servos.
Prevents accidental gear collapse on power-up
Ensures the retracts are "Down" on power-up, regardless of Tx Gear switch position.
Automatically manages Retracts, Steering and Brake functions
Rudder - Steering Mix
Down Elevator - Brake Mix
Gear-up mix override
Programmable endpoints and centering
Frees up Steering and Brake channels on the radio
No complicated Tx mixing
Saves up to 4 mixes!
E-Z "no brainer" installation and setup
Transforms a lowly 7-channel radio into a high-end 9-channel,
or a high-end 10-channel into an X-treme 12 channel!!
Works with ALL brands and types of radios -
FM-PPM, PCM, etc.
Perfect for that 2.4GHz Spread-spectrum
radio!
"The new EDR 125 is a must for any serious modeler. I love it! I presently have one on my new 107 inch F-18 Super Hornet. It has worked flawlessly, and continues to give me peace of mind from a gear collapse.

The Hornet has a multitude of doors, and it would be a disaster for the unthinkable to happen.

The EDR-125 also has enabled me to operate this very complicated model on just a nine channel receiver."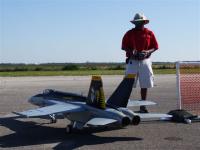 Lewis Patton
---
No extra radio channels required for operation of gear, brake or steering.
Plugs into your Rx's gear, elevator and rudder channels, no Y-harnesses or complicated connectors required!
Prevents accidental retraction on power-up
On power-up, even if the Tx is off, the gear is forced down.
If the Tx is on, the gear must be commanded down for at least 3 seconds before the Gear Mg'R will accept a gear-up command.

The gear will not respond to rapid up-down-up-down (panic?) flipping of the gear switch, only to a deliberate 3-second continuous gear down command to unlock the gear for retraction. Prevents fumbling on power up causing the gear to "accidentally" retract!


After unlocking, the gear will operate normally, following the gear switch.


This feature can be also used to lower the gear when unloading or assembling the airplane at the field, without the Tx or frequency pin!
Automatic Rudder-Steering mix with centering delay
With the gear down, the rudder is mixed to the steering. Steering centering, throw and direction are fully programmable, employing our exclusive "natural, no-brainer" setup procedure using the Tx sticks.


On gear-up command, the steering immediately centers for approx. 0.3 seconds before the gear servo moves to retract the gear.
This allows time for the steering linkages to work, especially when using a pull-pull system (the cables go slack as soon as the gear starts retracting), before gear retraction commences.


With the gear retracted, rudder-steering mix is canceled, and the steering is held and locked in center. This prevents pull-pull cable tangling and pushrod jamming.
Automatic Elevator-Brake mix
With the gear down, the brake is mixed with "down elevator". Brake endpoints are fully programmable using our "natural, no-brainer" setup procedure. The brakes are fully proportional, so you can use the EDR-125 with "smooth brake" systems.


With the gear up, the brakes are held and locked in the "off" position. This allows full elevator operation without using up precious brake air!
Compatible with "over-travel" brake systems using integrated retract/brake valves or microswitches
Saves 2 channels in addition to the above complex mixes.
Turns a 7-channel Spread Spectrum radio into a 9-channel, a JR 9303 or Futaba 9Z into an 11-channel, a JR10X into a 12-channel.


Turns a JR10X with the new Spectrum module or XtremeLink module (max. 9 command channels) into an 11-channel!