EDR-207L NanoTest A123 BatteryTester

SKU: EDR207L

Price: 39.95
Price: $39.95 On Sale! 29.95
On Sale! $29.95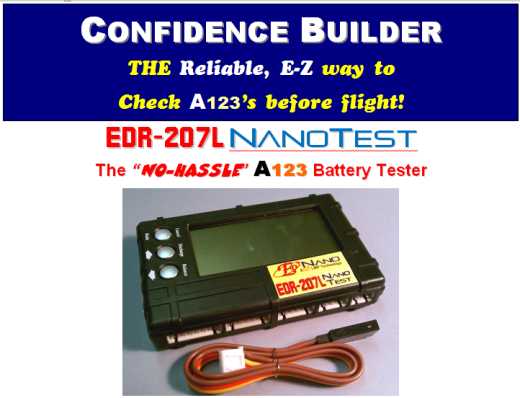 Measures individual cell voltages under a 300mA load
to a precision of ± 0.005V.
Is there enough charge in my A123's for the next flight??
DON'T GUESS!!
Plug in the EDR-207L...
ALL cells AT LEAST 3.30V?
GO FLY!

Dimensions: 3-5/8" x 2-3/8" x 5/8", Weight: 2-1/2 oz.
Updated and NEW Lower Price!
Only $29.95
Comes WITH FREE
EDN-XH2S-JR Adapter ($10 value) for ED-Nano (A123) 2S Receiver batteries!